Meet me @ The Quaives …….Autumn Kula Retreat, November 15th-17th 2019
Meet me at The Quaives for a weekend to "Rest and Restore" …… walk through these gates to a place of tranquillity nestled deep in the quintessentially English countryside of Kent near Canterbury. The Quaives is a beautiful retreat haven. Set in 9 acres of Mother Earth beauty amongst the main house are 3 cottages , a yoga studio, communal / social outbuilding , tennis court, hot tub and lovingly manicured gardens. The countryside and villages around invite you to explore and become attuned to natures elements. I warmly welcome you to join me and hope to meet you there………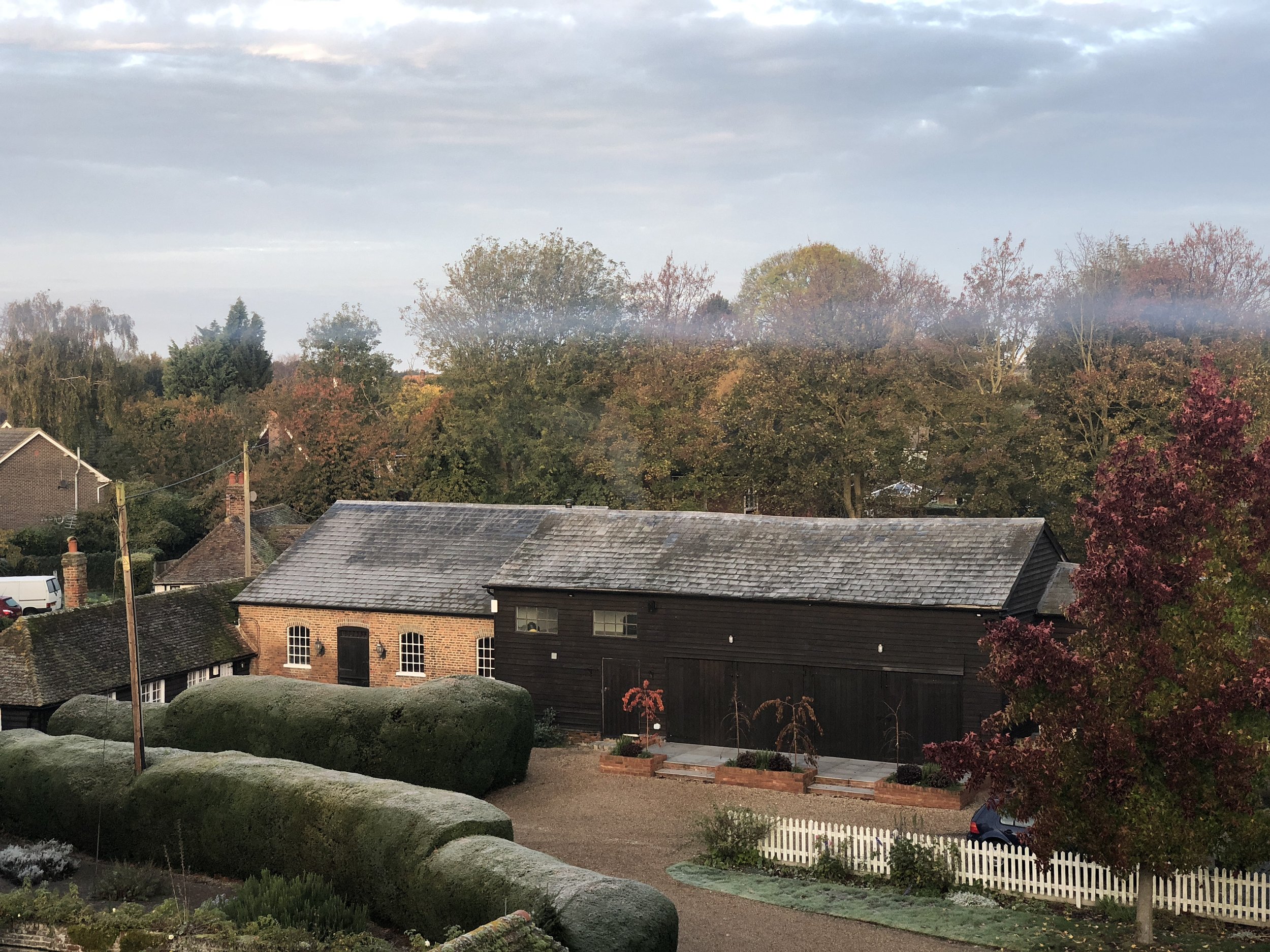 images of grounds and studio
"Autumn Kula Rest & Restore"
I am very excited to be offering a second yoga "Kula" weekend this year .
Kula is a Sanskrit word that can be translated as "community," "clan" or "tribe." This word is sometimes used by the yoga community to denote the sense of inclusion and belonging that can be cultivated through yogis coming together to practice yoga. These "Kula" weekends are open to everyone. The cost to guests cover venue hire and food plus my travel expenses and marketing / admin costs. I will offer my teaching on a donation basis. There is no minimum donation. You will have the opportunity to make a yoga donation during the retreat.
Autumn marks the transition from Summer to Winter, we begin to slow down from the activity and growth of the Spring and Summer and in tandem with nature start to reflect, store and hibernate towards the winter months. To steer ourselves in to balance we will "Rest and Restore" during this retreat. Our practice will be Hatha and Yin yoga with daily meditation and Sound healing. You will be in the heart of the beautiful Kent countryside surrounded by Mother nature beauty and attuned to the elements. Come for yoga, delicious vegetarian / vegan food, fresh air, countryside walks, firepit chats, tennis, logfire chats, reading, singing, sleeping, massage and most importantly the chance to rest and restore.
There will be 15 full time spaces available on this retreat and 6 day spaces for Saturday 16th November
Venue
"The Quaives"
Seaton Road, Wickhambreaux, CT3 1RU
Nr Canterbury - directions - click here
Dates :
Friday 15th – Sunday 17th November. Arrival 3pm onwards on Friday 15th - first class at 5.30pm. Depart 3pm onwards on Sunday 17th .
Accomodation :
From £295pp…..
Accomodation will be available as follows:
Scandi Style Adult Dormitory – 6 spaces - £295pp click here for details - FULLY BOOKED
Fuscia Cottage – two bedrooms – sleeps 4 (twin and bunk beds) - £365pp - click here for details - FULLY BOOKED
Songbird Cottage – 1 bedroom – twin – sleeps 2 -£365pp - click here for details - FULLY BOOKED
Bumblebee Cottage Luxury one bed cottage – One King bed only - 2 sharing at £320pp - ideal for couple or two friends sharing. Single person occupancy is £495
click here for details - FULLY BOOKED
All cottages have kitchen, living space, luxury bathroom, underfloor heating. There are three luxury shower rooms for the dorms in a separate building directly opposite.
Day retreat guests -
There are 6 day spaces available on Saturday 16th November … FULLY BOOKED
- £85.00 pp includes meditation, 2 x yoga (3 hours ), sound bath, breakfast, lunch, dinner. The schedule is a guide and may change slightly
8.00-8.30 - morning meditation
8.30-10.00am morning practice
10.00am – 11.00am breakfast
11.15-1pm – circular countryside and village walk (optional)
1-2pm – lunch
Free time for massage / rest / read
3.00 pm - tea and cake
4pm-5.30pm – Yin yoga
5.45pm-6.45pm – Sound bath
7.15pm Dinner
How do I book my space?
Deposit to secure full time place is £150 – this is non refundable
Deposit to book day space is £40 - this is non refundable
For both options please fill in a retreat booking form - click here - please read the terms of payment and cancellation policy noted on the registration form
Balance and payment plans:
Balance to be paid in full by October 1st 2019 - you may pay in installments as you wish – please let me know of your payment plan.
Contact me via my form with any further questions
Always look to the light,
Much love,
Yinnyx